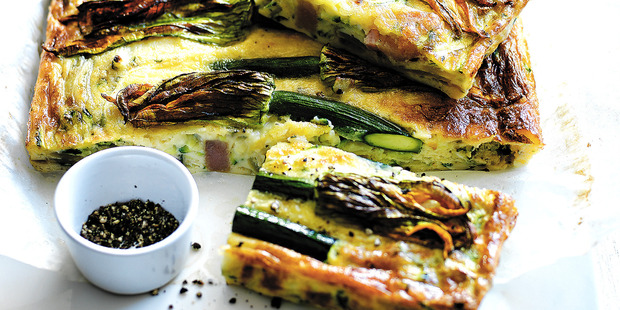 Serves 4-6
• 1 Tbsp extra virgin olive oil
• 200g flat pancetta or bacon, chopped
• 1 white onion, sliced
• 1 cup grated zucchini
• 1 Tbsp chopped lemon thyme
• 8 eggs
• 1 cup pouring cream
• 1 cup finely grated gruyere
• Sea salt and cracked black pepper
• 10 zucchini flowers, stamens removed


1. Preheat oven to 200C. Heat 1/2 Tbsp of the oil in a large non-stick frying pan over high heat. Add the pancetta and cook for 3-4 minutes or until crisp and golden.
2. Remove from the pan and set aside. Add the remaining oil and the onion to the pan and cook for 3-4 minutes or until softened and lightly golden. Place the onion in a bowl and add the grated zucchini, the lemon thyme and pancetta and mix
to combine. Spoon the mixture into a lightly greased 20cm x 30cm tin lined with non-stick baking paper.
3. Place the eggs, cream, cheese, salt and pepper in a bowl and whisk to combine.
Pour the egg mixture into the tin over the zucchini mixture and top with the zucchini flowers. Bake for 25-30 minutes or until golden and cooked through.


Tips and tricks
• For best results, cook your zucchini flowers on the day they are purchased (or pick them fresh from your garden).
• Removing the stamens from the middle of the zucchini flower is an important step, as they can have a bitter flavour.
For more recipes visit the Donna Hay website, www.donnahay.com.