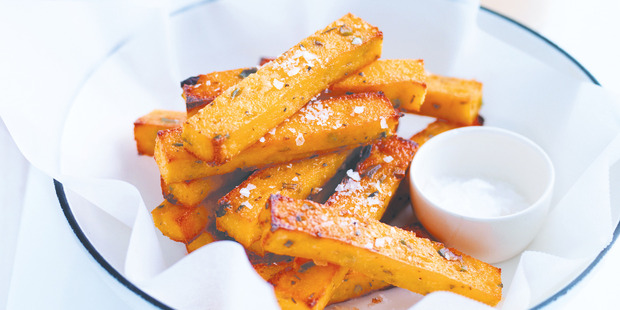 Green olive and rosemary polenta chips. Photo / Donna Hay Magazine
• 1 Tbsp chopped rosemary
• ¼ cup pitted green Sicilian olives, chopped
• 1 x quantity soft polenta (see below)
• Olive oil, for brushing
• Sea salt flakes
• Store-bought aioli, to serve


1. Stir the rosemary and olives into the soft polenta. Spoon the mixture into a lightly greased 20cm x 30cm tin and smooth the top with a palette knife. Refrigerate for 30 minutes or until set. Preheat oven to 220C.
2. Cut polenta in half lengthways and divide each piece into 1.5cm fingers. Place the chips on a large lightly greased baking tray lined with non-stick baking paper, brush them with oil and sprinkle with salt.
3. Bake for 15 minutes, turn, and cook for another 10-15 minutes or until golden and crisp. Serve with aioli.


Tips and tricks
• The trick to making extra-smooth polenta is to stir it continually while it's on the stove, getting rid of any lumps as it thickens.
• We've used instant polenta in these recipes, as it's simple and quick to make. If you wish to use regular polenta, follow the instructions on the packet, remembering it takes longer to cook.
• For a variation of flavours, stir different cheeses, such as pecorino or fontina, through your soft polenta. Most herbs work well, too - try adding oregano, thyme or sage.