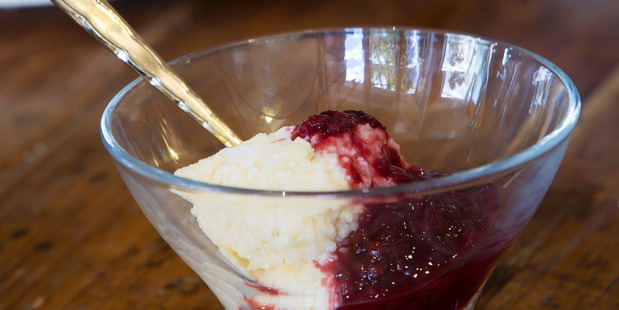 Serves 8-10
• 1 litre full-cream milk
• 90g semolina
• 75g sugar
• ¼ vanilla pod, split in half
• Peel of half a lemon
• Pinch of salt
• 2 eggs, separated into yolks and whites
• Almond slivers


1. Beat the egg whites until firm.
2. Whisk together the semolina, cold milk and sugar in a medium-sized saucepan. Make sure it's free of lumps.
3. Put the pot on to the stove and bring to the boil, whisking continuously to avoid lumps forming. Add the lemon peel, vanilla pod and salt.
4. Once thickened, remove from the stove and strain out the lemon peel and vanilla pod. Add the egg yolks, continuing to whisk and fold in the beaten whites.
5. Pour into a serving bowl (a patterned glass bowl is nice) that you have previously rinsed out with cold water. The bowl should still be wet.
6. Cover with wet tea towel to avoid a top skin. Refrigerate for around two hours until set. You can also add almond slivers into the mixture to give the griesmeel some crunch.
7. To serve, unmould on to a plate and offer the berry compote.
Berry compote
1. Mix 2 cups of frozen or fresh berries with half a cup of sugar.
2. Bring to the boil adding a tablespoon of cornflour and whisking to avoid lumps.
3. Allow to cool and serve with the Griesmeel pudding.