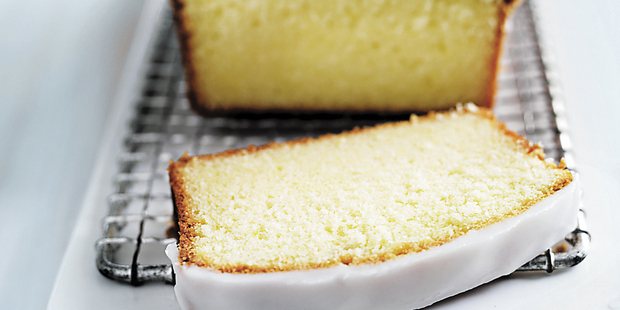 Serves 8-10
• 1 ½ cups plain flour
• 1 tsp baking powder
• 120g unsalted butter, softened
• 1 Tbsp finely grated lemon zest
• 1 cup caster sugar
• 2 eggs
• ½ cup milk
Lemon icing
• 1 cup icing sugar, sifted
• 1 Tbsp lemon juice
• ½ Tbsp boiling water


1. Preheat oven to 160C. Sift the flour and baking powder into a bowl and set aside. Place the butter and lemon zest in a bowl and beat with an electric mixer on medium speed for 3-4 minutes.
2. Gradually add the sugar, scraping down the sides of the bowl, and beat for 5- 6 minutes or until the mixture is pale and creamy. Add the eggs, one at a time, beating well after each addition. Reduce speed to low and gradually add the flour mixture and milk, alternating, until smooth.
3. Spoon into a lightly greased 10cm x 20cm loaf tin lined with non-stick baking paper and bake for 1 hour or until cooked when tested with a skewer.
Allow to cool in the tin for 10 minutes before turning out onto a wire rack to cool.
4. Mix to combine the icing sugar, lemon juice and the water and spoon over the loaf. Leave to set for 5 minutes.


Tips and tricks
• Store lemon cakes in an airtight container. They should stay fresh for up to three days. These cakes are suitable to freeze. Simply take them out of the freezer an hour before serving, thaw, and ice according to the the recipe.
For more recipes visit the Donna Hay website, www.donnahay.com.