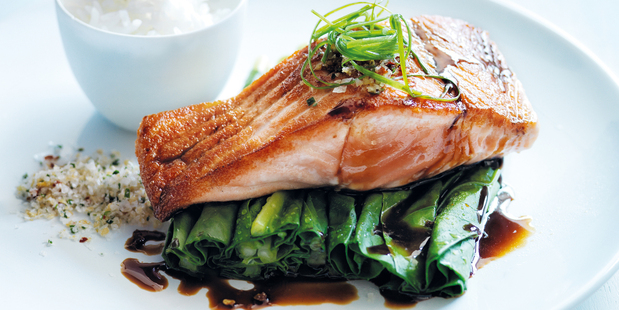 Salmon with Asian greenS. Photo / Donna Hay Magazine
Serves 4
• 4 x 150g salmon fillets, skin removed
• 1 Tbsp vegetable oil
• Sea salt and cracked black pepper
• 2 Tbsp lime juice
• ¼ cup kecap manis (see tips & tricks)
• 2 cloves garlic, crushed
• 600g gai larn, trimmed
• 2 Tbsp kaffir lime, lemongrass and chilli salt
• Spring onion, thinly sliced and steamed
• Jasmine rice, to serve


1. Brush the salmon with oil and sprinkle with salt and pepper. Heat a large non-stick frying pan over high heat.
2. Add the salmon and cook for 2-3 minutes each side for medium-rare or until cooked to your liking. Remove from the pan and keep warm.
3. Add the lime juice, kecap manis and garlic to the pan and cook for 1-2 minutes or until reduced slightly. Set aside. Cook the gai larn in a large saucepan of salted boiling water for 1-2 minutes or until tender.
Drain and divide between plates.
4. Top with the salmon, spoon over the sauce and sprinkle with the kaffir lime, lemongrass and chilli salt. Top with the spring onion and serve with the rice.


Tips & tricks
• Kecap manis is a sticky, sweet Indonesian-style soy sauce. It's available from most supermarkets and Asian grocery stores.