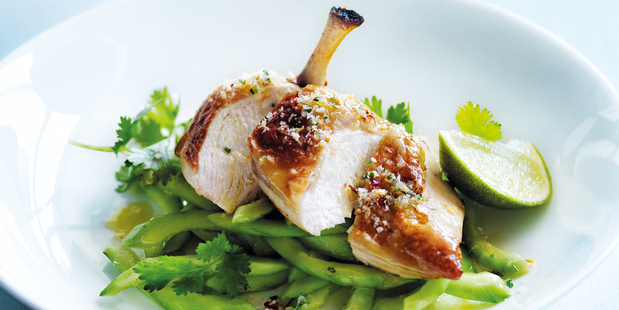 Serves 4
• 1.5 litres chicken stock
• 1/3 cup fish sauce
• 2 long red chillies, halved lengthways
• 3 kaffir lime leaves, bruised
• 1 stalk lemongrass, bruised
• 4 x 200g chicken breasts, skin on
• 1 ½ Tbsp olive oil
• 2 Tbsp lime juice
• 4 lebanese cucumbers, peeled, deseeded and sliced
• 1 cup coriander leaves
• Cracked black pepper
• 2 Tbsp kaffir lime, lemongrass and chilli salt


1. Preheat oven to 220C. Place the stock, fish sauce, chilli, kaffir lime and lemongrass in a large saucepan over medium heat and bring to the boil. Reduce the heat, add the chicken and simmer, covered, for 5 minutes. Remove from the heat and allow to stand for a further 5 minutes.
2. Carefully remove chicken from the saucepan and drain before placing on a baking tray. Rub with ½ Tbsp oil and bake for 15-20 minutes or until golden.
3. Mix to combine the lime juice and remaining oil. Divide the cucumber and coriander between plates, drizzle with the lime dressing and top with the chicken.
Sprinkle with the pepper and the kaffir lime, lemongrass and chilli salt to serve.


Tips & tricks
• Poaching the chicken before roasting it gives it a succulent texture and flavour well worth the juicy result.
• Use chicken supremes – breast fillet with the wing-tip and skin attached – if you can get them from your butcher.
For more recipes visit the Donna Hay website, www.donnahay.com.