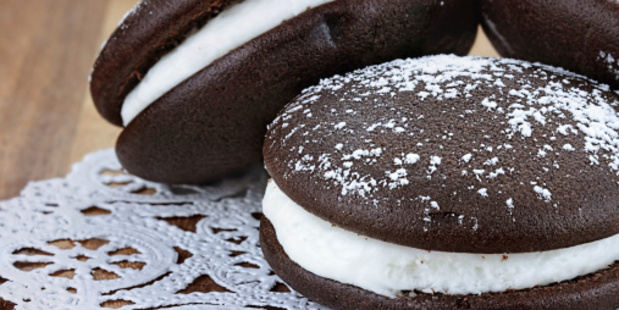 Chocolate Whoopie Pies
• 240g plain flour
• 70g cocoa
• 1 ½ tsp baking soda
• ¼ tsp salt
• 100g butter, softened
• 175g brown sugar
• 1 egg
• 1 tsp vanilla extract
• 260ml milk
Berry Compote Creme
• 200g creme cheese
• 50g cutter, softened
• 1 C icing sugar
• 1 tsp vanilla paste
• ½ C Dollop Raspberry and Boysenberry Compote


1. To make the chocolate whoopie pies, set oven to 180C and line 3 trays with baking paper.
2. Beat sugar and butter together until pale and creamy, add the egg and beat until well combined.
3. Add half of the sifted dry ingredients, stir until just combined, and then add remaining half and mix until just combined.
4. Place mix into a piping bag with a round nozzle. Pipe mix on to baking trays, approx.
4cm in diameter; leave a 4-5cm space between each one.
5. Bake for 10 minutes, preferably swapping baking tray positions after 5 minutes.
6. Remove from oven and transfer to cooling racks.
7. To make Compote Creme, place cream cheese into a bowl and use an electric beater to whisk until soft and smooth. Add butter, vanilla and icing sugar and beat until combined. Take the Compote and swirl through lightly, ensure this isn't completely mixed and has a nice swirled effect.
8. To assemble, place half of the whoopie pies flat side up on the bench. Using a piping bag, pipe the Compote Creme filling to cover flat surface, leaving a 5mm edge around the rim uncovered. Sandwich this with another whoopee pie. Decorate the top with icing sugar.