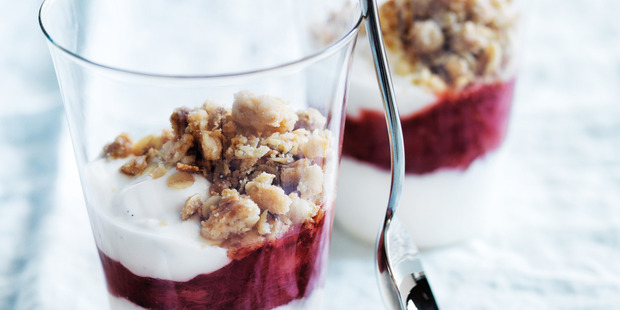 Rhubarb and coconut crumble jars
Makes 4
• 400g rhubarb, trimmed and chopped
• 1 vanilla bean, split and seeds scraped
• ¾ cup caster sugar
• 1 Tbsp water
• 2 cups thick Greek-style yoghurt
• 2 Tbsp icing sugar, sifted
Coconut crumble
• ½ cup plain flour
• ½ cup shredded coconut
• 1/3 cup caster sugar
• ½ cup rolled oats
• 80g unsalted butter, melted


1. Preheat oven to 180C. To make the crumble, place the flour, coconut, sugar, oats and butter in a bowl and stir until the mixture just comes together and resembles coarse breadcrumbs.
2. Spoon the mixture on to a lightly greased baking tray lined with non-stick baking paper and bake for 12-15 minutes or until light golden. Set aside to cool.
3. Place the rhubarb, half the vanilla seeds, sugar and water in a saucepan over medium heat and stir until the sugar is dissolved.
Bring to the boil and cook, stirring occasionally, for 5-7 minutes or until soft. Allow to cool.
4. Place the yoghurt, remaining vanilla and icing sugar in a bowl and mix to combine. Divide between 4 x 1 cup-capacity jars and top with the rhubarb and crumble to serve.


Tips & tricks
• Cereal fun: instead of the coconut crumble, try serving the stewed rhubarb with muesli or granola.
For more recipes visit the Donna Hay website, www.donnahay.com.