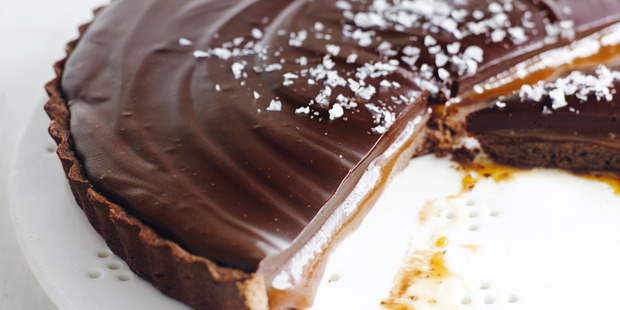 Serves 6-8
• ¼ cup cocoa
• 1½ cups plain flour
• 125g unsalted butter, chilled and cubed
• ½ cup icing sugar
• 3 egg yolks
• 1 Tbsp iced water
• 1 x quantity salted caramel
• Sea salt flakes, for sprinkling
Dark chocolate ganache
• 150g dark chocolate, chopped
• ½ cup pouring cream

1. Place the cocoa, flour, butter and icing sugar in a food processor and combine until the mixture resembles fine breadcrumbs. With the motor running, add the egg yolk. Add the iced water and process until the dough just comes together.
2. Turn out on to a lightly floured surface and gently bring together to form a ball. Flatten into a disc, wrap in plastic wrap and refrigerate for 1 hour. Preheat oven to 180C.
3. Roll the pastry out between 2 sheets of non-stick baking paper to 3mm thick. Line a lightly greased 24cm round loose-bottomed tart tin with the pastry. Trim the edges and prick the base with a fork. Refrigerate for 30 minutes.
4. Line the pastry case with non-stick baking paper, fill with baking weights and bake for 15 minutes. Remove the paper and weights and bake for a further 10 minutes or until the pastry is just cooked. Allow to cool in the tin.
5. Spoon the salted caramel into the tart shell and refrigerate for 2-3 hours or until set.
6. To make the dark chocolate ganache, place the chocolate and cream in a small saucepan over low heat and cook, stirring, until melted and smooth.
7. Allow to stand for 10 minutes or until thickened slightly. Pour the chocolate mixture over the caramel and set in the fridge for 1-2 hours.
8. Bring to room temperature and sprinkle with sea salt flakes to serve.
For more recipes visit the Donna Hay website, www.donnahay.com.