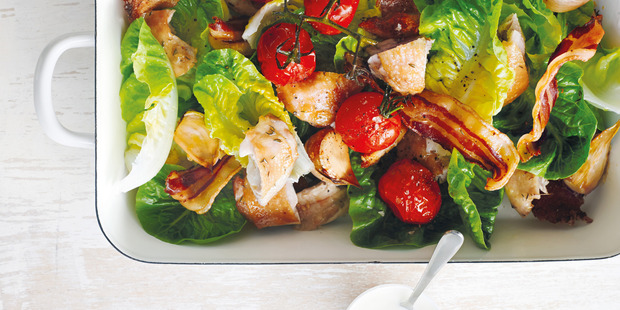 Serves 4
• 8 x 220g bone-in chicken thighs, skin on
• 2 cups fresh sourdough breadcrumbs
• 8 cloves garlic, unpeeled
• 1 Tbsp thyme leaves
• Sea salt and cracked black pepper
• 1 Tbsp olive oil
• 8 slices flat pancetta
• 300g vine-ripened baby Roma tomatoes
• 1/3 cup whole-egg mayonnaise
• 1 Tbsp lemon juice
• 1 Tbsp water
• 2 baby cos lettuces, leaves separated

1. Preheat oven to 200C. Place the chicken, breadcrumbs and garlic on a large baking tray, sprinkle with the thyme leaves, salt and pepper, and drizzle with the oil. Roast for 30 minutes.
2. Add the pancetta and tomatoes and roast for a further 10-15 minutes or until pancetta is golden and the chicken is cooked through.
3. Remove the chicken from the tray and allow to cool slightly. Remove the bones and chop the chicken into pieces.
4. Squeeze 2 cloves of garlic from their skins into a bowl. Using a fork, mash to form a paste and stir through the mayonnaise, lemon juice and water.
5. Place the lettuce leaves in a dish and top with the chicken, tomatoes, pancetta, remaining garlic cloves and breadcrumbs. Serve with the dressing.
For more recipes visit the Donna Hay website, www.donnahay.com.