Head to the seaside and fill your table with fresh cockles, scallops and fish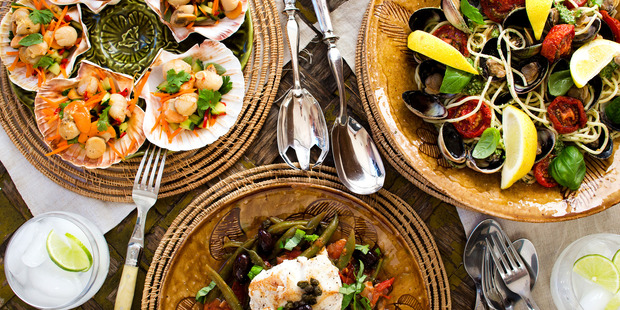 Easter weekend may be our last holiday opportunity for a while to get to the beach, cast out those fishing lines, or hunt and gather on the shoreline for cockles and mussels.
Plentiful, unfenced and free, we can all get our hands on a small part of this protein supply in the blue seas that surround us.
A couple of weeks ago we were at the Waipu River estuary doing just that; having lots of fun on the water's edge as we filled our bucket with cockles. It was then straight home and into the pot with our bounty, along with a little wine and a few herbs. After 20 minutes on the stove, the shells were open and then strained off into a bowl. We sat on the deck dipping our little delicacies into vinegar. Not too bad for a Sunday afternoon.
Other ways to enjoy seafood are sashimi, or a whole fish scaled, gutted and barbecued with some Asian spices or simply dipped in egg and pan fried in butter, served with a squeeze of lemon.
Fresh fish doesn't need too much attention. My other favourite is to smoke a larger fish, and then use it for an array of dishes, fish cakes, kedgeree, or on crostini with wasabi and aioli.
Today I start with a fresh salad served in shells or on a small plate. Always keep your salad covered in the fridge until ready to serve to keep it crisp and fresh. Serve immediately with scallops, fried quickly with plenty of coriander and chilli. A squeeze of lime is a nice touch.
Next I have chosen hapuka, served with slow-cooked beans and tomatoes, but this recipe is equally suitable for other fish.
Serve the beans warm, and savour the flavours, with the crispy fried capers and olives adding a yummy salty taste. The fish will melt in your mouth.
Cockles, found in the sandy mud of estuaries, are easily gathered at low tide (or found at fish markets). Here, I make what I call a peasant meal: simple and easy to prepare. Within 20 minutes you will have a wholesome pasta dish to serve for lunch or dinner. The salsa verde can be made from any soft herbs you have on hand; here I have used peppery watercress mixed with parsley, which complements the cockles. (It is also delicious in sandwiches.)
Here's to a happy weekend. Celebrate the tradition of Easter not just with loads of chocolate, but getting out and enjoying the great outdoors, too.

Recipes
• Scallops with crunchy thai salad
• Hapuka medallions with slow-cooked beans
• Spaghetti with cockles and semi-dried tomatoes

• Set of antique servers $295, antique oyster plates $85 each, Seagrass matt $60 set, Laguiole cutlery from $27 each, antique table $1285, remnant linen all from La Cigale, 69 St Georges Bay Rd, Parnell, ph (09) 366 9361, lacigale.co.nz. Tribal serving bowls from Afghanistan $20 each or two for $30 from Madder & Rouge, 25 Teed St, Newmarket, ph (09) 522 1062, madderandrouge.co.nz.
For more of Angela Casley's fabulous recipes, visit foodhub.co.nz

- VIVA