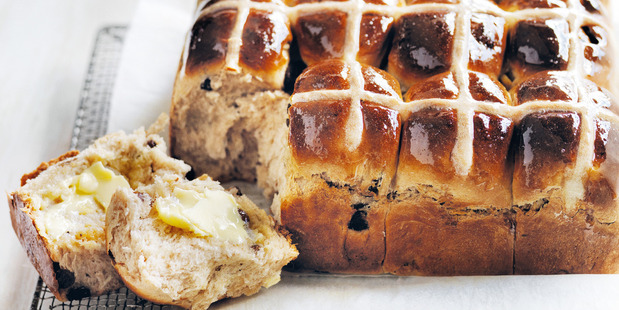 Forget chocolate eggs, nothing will get you into the Easter spirit more than the sweet fragrance of freshly baked hot cross buns. Follow these three simple steps and fill the house with that unmistakable aroma. Happy Easter.
Makes 12
• 1 Tbsp active dry yeast
• 1/2 cup caster sugar
• 1 1/2 cups lukewarm milk
• 4 1/4 cups plain flour, sifted
• 2 tsp mixed spice
• 2 tsp ground cinnamon
• 50g unsalted butter, melted
• 1 egg
• 1 1/2 cups sultanas
• 1/3 cup candied mixed peel, optional
• 1/2 cup plain flour, extra
• 1/3 cup water
• Unsalted butter, to serve
Glaze
• 1 Tbsp water
• 2 tsp gelatin powder
• 1/2 cup caster sugar
• 1/4 cup water, extra

1. Place the yeast, 2 tsp sugar and the milk in a large bowl and set aside for 5 minutes. The mixture will start to foam, indicating that the yeast is active. Add the flour, mixed spice, cinnamon, butter, egg, sultanas, mixed peel and remaining sugar to the yeast mixture and mix until a sticky dough forms.
Knead the dough on a lightly floured surface for 8 minutes or until elastic. Place in a lightly oiled bowl, cover with a clean, damp cloth and set aside in a warm place for 1 hour or until doubled in size. Divide the dough into 12 pieces and roll into balls. Arrange the dough balls in a lightly greased 22cm square cake tin lined with non-stick baking paper. Cover with a damp cloth and set aside in a warm place for 30 minutes or until risen.
2. Preheat oven to 200C. Place the extra flour and the water in a bowl and stir to combine. Place in a piping bag or a plastic bag with one corner snipped off, and pipe crosses on the buns.
3. Bake for 30-35 minutes or until golden and springy to touch. While the hot cross buns are baking, make the glaze. Place the water in a small bowl and sprinkle over the gelatine. Set aside for 1-2 minutes or until the gelatine is dissolved. Set aside. Place the sugar and extra water in a small saucepan over low heat and cook, stirring, until the sugar is dissolved. Use a wet pastry brush to remove any sugar crystals on the side of the pan. Add the gelatine mixture and cook for 1-2 minutes or until the gelatin is dissolved. Brush with the warm glaze while the buns are still hot. Serve warm with butter.

Tips and tricks
You choose. Create hot cross buns just as you like them. Omit the peel or sultanas or add chocolate chips.
Sure to rise. Check that the dough has risen before rolling into balls. If it hasn't doubled in size, your yeast may be inactive. Be sure to check the use-by date on the yeast before cooking.
For more recipes visit the Donna Hay website, www.donnahay.com.