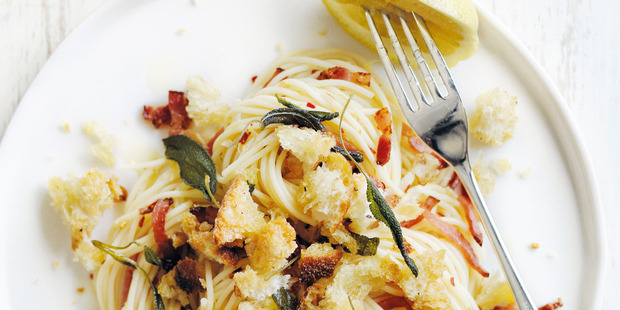 Chilli bacon pasta with sage crumbs. Photo / Donna Hay Magazine
Serves 4
• 400g angel hair pasta or spaghettini
• 2 Tbsp olive oil
• 400g bacon, trimmed and thinly sliced
• 1 tsp dried chilli flakes
• 1/4 cup lemon juice
• 1 Tbsp finely grated lemon rind
• Sea salt and cracked black pepper
• 2 cups sage sourdough breadcrumbs, (see previous page)
• Lemon wedges, to serve
1. Cook the pasta in a large saucepan of salted boiling water for 6-8 minutes or until al dente. Drain and keep warm. While the pasta is cooking, heat the
oil in large frying pan over medium heat.
2. Add the bacon and cook, stirring occasionally, for 6-8 minutes or until golden and crisp. Add the chilli, lemon juice and rind, salt and pepper and pasta and toss to coat.
3. Top the pasta with the sage crumbs and serve with the lemon wedges.