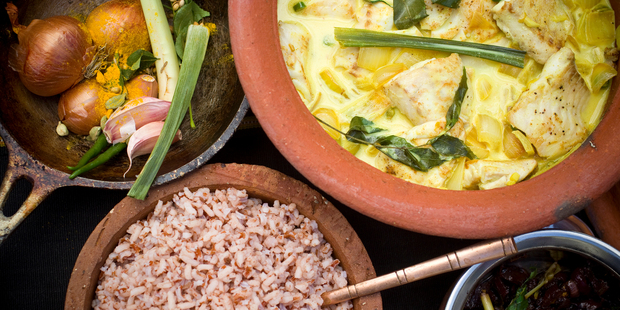 This is a great way to start the day and get the digestive juices working. In Sri Lanka it is not unusual to follow this with a bowl of buffalo curd topped with jaggery (palm sugar) syrup.

• 500g white fish fillets, cut into large pieces (5cm square)
• Salt and pepper
• 2 Tbsp canola oil
• 3 onions, peeled, sliced and chopped
• 1 pandanus leaf (optional)
• 1 sprig curry leaves
• 1 Tbsp crushed garlic
• 1 inch lemon grass, finely sliced
• 2 green chills, finely sliced
• 4 cardamom pods, crushed
• ½ tsp each of fenugreek seeds, turmeric powder, ground cumin, ground coriander
• 1 cup coconut milk
• 1 lemon, juiced

1. Season the fish with salt and pepper.
2. Heat the oil, sear the fish and set aside.
3. Add the onions, pandanus leaf, curry leaves, garlic, lemongrass, cardamom and fenugreek and saute until onions are transparent.
4. Add the ground spices, stir and then add the coconut milk and lemon juice.
5. Return the fish and simmer gently until fish is cooked through, about 10 minutes.
Serve with red rice and a sweet onion relish (seeni sambal)