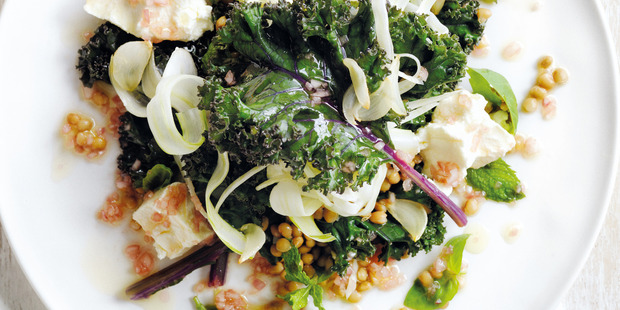 Serves 4
• 1 Tbsp olive oil
• 3 cloves garlic, sliced
• 300g kale, trimmed and roughly torn
• 1 x 400g can lentils, drained and rinsed
• 300g fennel, shaved
• 180g marinated feta
• ½ cup mint leaves
• ½ cup basil leaves
Shallot dressing
• 1 shallot, finely chopped
• ¼ cup red wine vinegar
• 2 Tbsp olive oil
• 1 tsp brown sugar
• Sea salt and cracked black pepper

1. To make the dressing, place the shallot, vinegar, olive oil, sugar, salt and pepper in a bowl and whisk to combine. Set aside.
2. Heat the oil in a large, non-stick frying pan over high heat. Add the garlic and cook for 30 seconds or until just golden. Add the kale and cook for 2-3 minutes or until just wilted.
3. Place in a bowl with the lentils, fennel, feta, mint and basil leaves, drizzle with the dressing, sprinkle with salt and pepper and toss to combine.

Tips and tricks
Frills: For lovely thin ribbons of fennel
in the kale and lentil salad, use a mandolin slicer or vegetable peeler.
Colours: You can find both green and purple kale from most supermarkets during autumn and winter. Choose kale with firm, bright leaves.
Hint: Kale often has a tough stem. To remove the leaves, simply run a sharp knife from the end of the leaf down the stem, facing away from you.
For more recipes visit the Donna Hay website, www.donnahay.com.