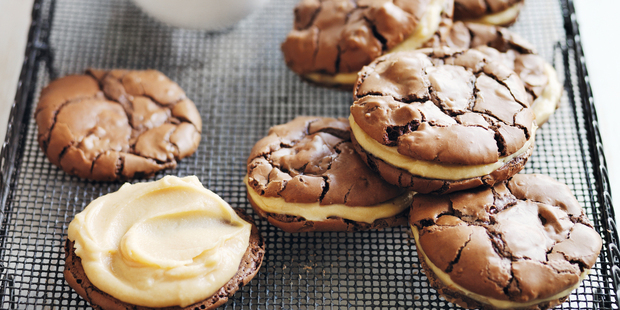 Makes 12
Sandwich cookies
350g dark chocolate, chopped
40g unsalted butter
2 eggs
2/3 cup caster sugar
1 tsp vanilla extract
1/4 cup plain flour, sifted
1/4 tsp baking powder, sifted
Salted caramel frosting
3/4 cup caster sugar
1/4 cup water
1/2 cup pouring cream
150g unsalted butter, chopped
sea salt flakes, for sprinkling

1. Preheat oven to 180C. Place 200g of the chocolate and the butter in a small saucepan over low heat and cook, stirring frequently, until melted and smooth. Set aside.
2. Beat the eggs, sugar and vanilla with an electric mixer for 15 minutes or until pale and creamy. Stir through the flour, baking powder, chocolate mixture and remaining chocolate and allow to stand for 10 minutes.
3. Drop tablespoonfuls of the mixture on baking trays lined with non-stick baking paper, allowing room to spread.
Bake for 8-10 minutes or until puffed and cracked. Allow to cool completely on trays.
4. To make the salted caramel icing, place the sugar and water in a medium saucepan over low heat and stir with a metal spoon until the sugar is dissolved.
5. Increase heat to medium and bring to the boil. Cook for 8-9 minutes or until golden. Remove from the heat and carefully add the cream and butter.
6. Return the saucepan to the heat and stir until the mixture is smooth. Refrigerate until cool. Beat mixture until soft peaks form.
7. Spread half the cookies with the icing, sprinkle with the salt and sandwich with the remaining cookies.

Tips and tricks
Fast food: If you're short on time, you could use store-bought caramel filling for the brownie cookies.
For more recipes visit the Donna Hay website, www.donnahay.com.