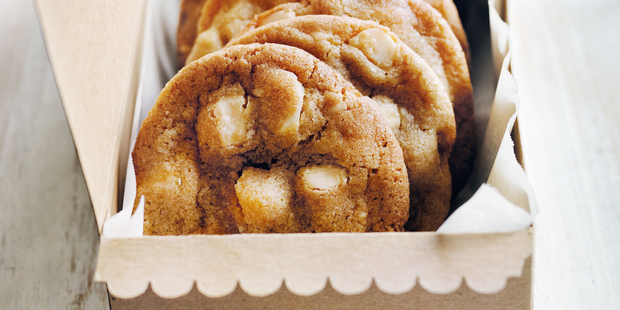 White chocolate and macadamia chip cookies. Photo / Donna Hay Magazine
Makes 22
• 1 cup brown sugar
• ¾ cup white sugar
• 150g unsalted butter, softened
• 2 tsp vanilla extract
• 1 egg
• 1 ½ cups plain flour, sifted
• ½ tsp baking powder, sifted
• ½ tsp table salt
• 250g white chocolate, chopped
• 150g macadamia nuts, chopped

1. Preheat oven to 160C. Beat the brown and white sugars, butter and vanilla with an electric mixer for 8-10 minutes or until pale and creamy. Scrape down the sides of the bowl and add the egg, beating well to combine.
2. Add the flour, baking powder and salt and beat on low until a dough forms. Fold through the chocolate and nuts.
3. Roll 2 Tbsp of the dough into balls at a time and flatten slightly. Place on lightly greased baking trays lined with non-stick baking paper, allowing room to spread. Bake for 15-18 minutes or until golden.
4. Allow to cool on trays before serving.