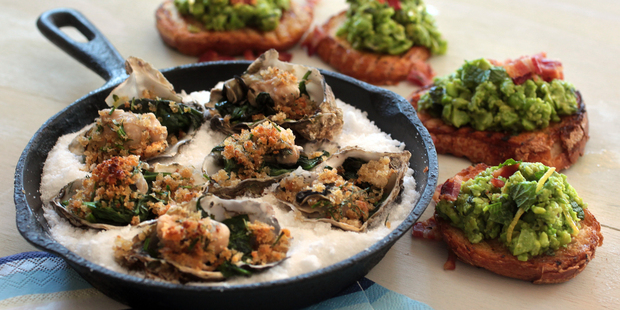 Serves 6
• 18 freshly shucked oysters (3 per person)
• 100g freshly finely ground white bread crumbs
• 40g unsalted butter
• 10g of parsley, chives and dill
• 200g cooked spinach
• squeeze of lemon juice
• Rock salt and lemon wedges for serving

1. Shuck the oysters and save any liquid that is in them by straining it into a small bowl, reserve.
2. Keep the bottom part of the shell and wash, discard the shell lid.
3. In a heavy-based frying pan heat 20g of butter until it starts to foam. When it does, add the breadcrumbs and toast, stirring constantly to prevent burning. When they are an even golden brown colour take off the heat and put in a tray to cool.
4. Finely chop the herbs. It doesn't matter too much about the ratios, you will need a good couple of tablespoons of herbs for the mix.
5. Mix the chopped herbs with the toasted breadcrumbs, add a small squeeze of lemon juice and a pinch of salt. Set aside.
6. Heat the spinach in a small pan using the rest of the butter with a a pinch of salt and a grind of pepper.
7. In another pot, pour in the oyster juices and a squeeze of lemon juice. Gently heat through the oysters, you may need to add a little water so the oysters can poach. You are only warming the oysters through and taking the chill off them. If you boil them they will overcook very quickly, shrink and go rubbery.
8. On a baking tray, lightly scrunch up about 60cm of tin foil and put the oyster shells on it, as you would put eggs in an egg tray. This keeps the shells level and allows for even grilling.
9. Take the the warmed spinach and squeeze out any excess liquid. Evenly divide it between the 18 shells. Place one oyster into each shell.
10. Finally sprinkle the breadcrumb mix over the oysters so they are totally covered. Place under a pre-heated grill and watch it like a hawk, as the pre-toasted breadcrumbs will burn in a flash if you're not vigilant.
11. Using a pair of tongs, arrange the oysters on a large platter using the rock salt as a base to keep the oysters from sliding and falling over.
Serve with lemon wedges and eat immediately.