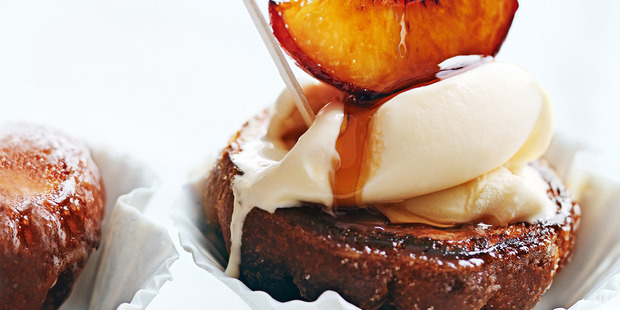 Serves 4
• 4 brioche rolls+
• 2 Tbsp white sugar
• 25g unsalted butter, melted
• 2 medium white peaches, quartered
• 4 large scoops store-bought vanilla
• icecream
• Maple syrup, to serve

1. Slice off the tops of the brioches and scoop out 2 Tbsp of the crumb to form a hollow, leaving a 1cm rim.
2. Place the sugar in a shallow dish. Brush the brioche rim with butter and press into the sugar.
3. Heat a non-stick frying pan over medium heat and cook the brioche, cut-side down, for 1-2 minutes or until caramelised.
4. Wipe the frying pan clean and increase the heat to high. Press the peaches, cut-side down, into the remaining sugar and cook for 30-60 seconds or until caramelised.
To serve, place the brioches on plates and top with icecream, peach and maple syrup.
+ Brioches are small sweet rolls baked in a fluted round tin giving them their unique shape. You can find them at some patisseries or bakeries. They make the ideal "cup" for the sundae.
For more recipes visit the Donna Hay website, www.donnahay.com.