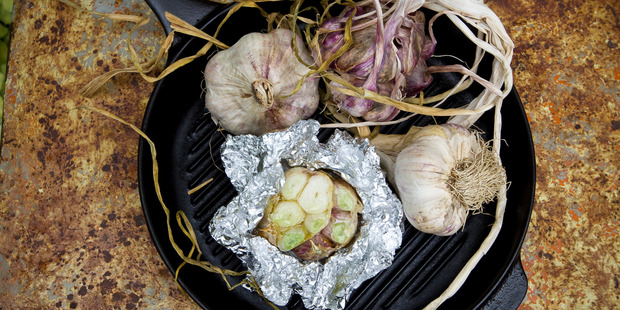 Whole bulbs of garlic can be roasted with other vegetables, tucked up beside roasting meats or roasted alone. The cooked garlic flesh, squeezed across the finished dish, prevents the need for further sauces.
1. Take a whole bulb of garlic and, with a sharp knife, cut away the top 1/3 of the bulb. Be sure to cut the pointed end, not the flat root end.
2. Wrap the bulb in a square of tinfoil, cut side up, and drizzle with a teaspoon of olive oil. Sprinkle with 1/3 teaspoon of salt. Twist up the foil into a peak, sealing in the garlic.
3. Place in a baking dish and roast for 45-60 minutes in a medium oven.
The bulbs will be golden brown, the garlic cloves soft and the flesh should pop out of the paper skin when squeezed.