Chef Hermann Schafellner explains the principles behind the delicious food at Gwinganna Lifestyle Retreat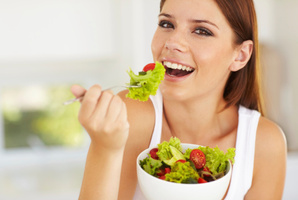 Hermann Schafellner is the man responsible for the delectable food that flows from the kitchens at Australia's luxurious Gwinganna Lifestyle Retreat. Originally from Austria, his career saw him work for many years in some of the top hotels in the world. It was his passion for working with fresh, in-season produce that led him to Gwinganna. He shares with Viva his approach to creating meals that not only taste good but are good for you, and three of his favourite recipes that are regularly served to the retreat's guests.
When it comes to food, what is your philosophy?
It's about using quality produce, organic foods and foods with low human intervention (LHI). By using foods in their natural state, the flavours and nutritional content are retained far better.
Talk us through your day at Gwinganna?
Working with a small but passionate team means that everyone is very hands on. I still prepare and cook meals every day but am also responsible for every dish that we provide and the quality of all the produce we use. My day may involve the breakfast/lunch meals or the lunch/dinner meals over any one week. I cover all these combinations so I can oversee the quality of every meal and also help each team deliver the best possible dishes for our guests.
A day will also be working on food orders with our suppliers especially our seafood supplier to see what's fresh so we can plan around this. I also oversee the special request board which identifies guest needs, allergies and requests. One day of each week I also present the cooking demonstration to guests so they can learn about how we prepare foods and take some ideas home.
What are the challenges of cooking at Gwinganna? A challenge for us here is the dietary requirements which can at times get very involved with things such as fructose malabsorption or general allergies. This means all the chefs need to know how to adjust a dish so that it still tastes and looks great and fits with our guidelines. Creating meals that are gluten and dairy free (most of ours are) is really easy in comparison, but we love it all.
The joys?
The joys here are highlighted by observing guests during a longer stay such as a seven-day detox. We get to see their transformation and their appreciation of the role food plays in their life. Being told that the food was the highlight of somebody's stay absolutely makes our week.
What are your favourite ingredients at the moment?
Quinoa is one of my favourite overall ingredients as it has great nutritional value and is so easy to use with other ingredients. I love cooking with the seasons, so that means artichokes and asparagus in spring, tomatoes, basil, chillies and stonefruits through summer and brussels sprouts in winter with things like kale, ginger and turmeric from our own garden. Having our own organic gardens on site makes it easy to obtain really fresh, tasty produce right before each meal.
When putting together a meal, what are the factors you consider to make sure it is well balanced?
All our meals are created in conjunction with our nutritionist as each menu is designed specifically for a particular programme. We have such a variety of different stays available so the food will vary according to the length and sometimes the theme of the stay. The combination of protein, carbohydrates, fat and of course flavour is a key part in any dish. Our nutritionist will assess the nutritional part of the meal.
Please share your top culinary tip?
Keep it simple! Don't overwork the ingredients and try to stick with just a few flavours and contrasting textures and let the seasons guide you.
What are your pantry cupboard essentials?
At home, a good pumpkin seed oil - try a splash over some sun-ripened tomatoes, basil, goat's cheese and freshly cracked pepper or drizzled on a warm pumpkin salad with balsamic vinegar, cumin and coriander seeds and rocket.
My home-made chilli sauce which is great on poached eggs collected from my chooks in the morning. I'd also have wholemeal, spelt and rye flour for when I have the urge to make a sourdough bread from scratch. Organic rolled oats, pepitas, sunflower seeds and dried figs for my breakfast cereal (with a dollop of sheep yoghurt and seasonal berries). Raw honey for my herbal tea ( just a little bit).
What's the kitchen appliance you can't live without?
Probably my kitchen blender to make my green breakfast smoothie ( with greens and herbs from my garden, seasonal fruit, ginger, oats or chia seeds).
What would you encourage/like to see more people try/be aware of when they come to eating healthily?
I would encourage people to consider the money spent on their food as part of their health insurance and as a preventative maintenance plan. They might consider it a more valuable "investment" then. I'd also say don't follow trendy useless diets but aim to eat healthy trusting also your common sense and body, not just science. If you need support or advice, see a reputable nutritionist to guide you along.
What's your secret indulgence?
It would have to be a proper apfelstrudel (apple strudel) made the authentic Austrian way, with a good vanilla icecream.
Anything else you'd like to add?
Your food should be nourishment and enjoyment for your body and soul, not punishment.
•Recipes taken from Gwinganna... From Garden to Gourmet, $75.65 plus postage and handling, from store@gwinganna.com