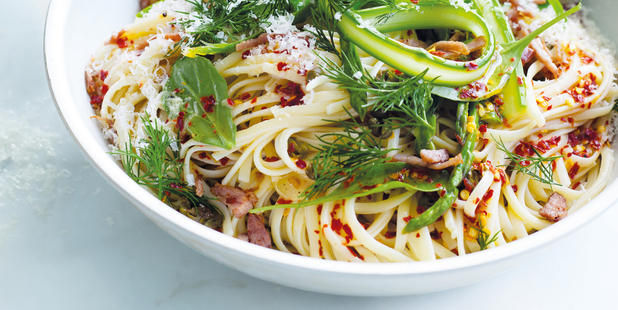 Ham, asparagus and dill pasta. Photo / Donna Hay Magazine
Serves 4.
• 400g linguine
• 200g asparagus, trimmed and thinly sliced using a vegetable peeler
• 2 Tbsp olive oil
• 250g leg ham, finely chopped
• 2 cloves garlic, thinly sliced
• ¼ cup salted capers, rinsed
• 50g baby rocket leaves
• ½ cup dill
Chilli and lemon dressing:
• 1 tsp dried chilli flakes
• ¼ cup lemon juice
• one-third cup olive oil
• Sea salt and cracked black pepper

1. To make the chilli and lemon dressing, place the chilli, lemon juice, oil, salt and pepper in a bowl and mix to combine. Set aside.
2. Cook the pasta in a large saucepan of salted boiling water for 8 minutes. Add the asparagus and cook for a further 1 minute or until the pasta is al dente. Drain and set aside.
3. Heat the oil in a large, non-stick frying pan over medium heat.
Add the ham and cook for 3 minutes or until light golden. Add the garlic and capers and cook for a further 1 minute. Remove from the heat.
4. Add the pasta, asparagus and rocket to the pan, pour over the chilli and lemon dressing and toss to coat. Top with dill to serve.