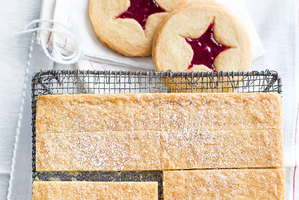 Makes 20.
• 250g cold unsalted butter, chopped
• 1 cup icing sugar, sifted
• 1½ cups plain flour, sifted
• ½ cup rice flour, sifted
• 1 tsp vanilla extract
• Icing sugar, extra, for dusting

1. Preheat oven to 180°C. Place the butter, icing sugar, both flours and vanilla in a food processor and process until the dough just comes together.
2. Using the back of a spoon, press the dough into a lightly greased 20cm x 30cm tin lined with baking paper. Refrigerate for 15 minutes or until firm.
3. Use a knife to score the dough into 20 rectangles and prick with a fork. Bake for 35-40 minutes or until golden.
4. Cool in the tin for 20 minutes. Remove from the tin and cool on a wire rack.
Dust with icing sugar and slice to serve.

Jam sandwiches:
1. Make the classic shortbread dough and roll out between sheets of non-stick baking paper to 5mm thick. Refrigerate for 30 minutes.
2. Use a 7cm-round cutter to cut 20 rounds from the dough. Place on trays lined with baking paper and use a 5cm star-shaped cutter to cut stars from the centre of 10 rounds. Bake for 10-12 minutes or until golden. Cool for 5 minutes.
3. Transfer to racks to cool. Spread the plain rounds with jam and sandwich with the star rounds.
For more recipes visit the Donna Hay website, www.donnahay.com.