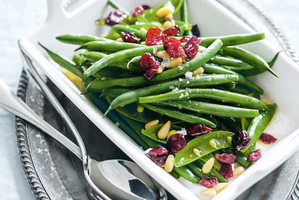 Green bean, sugar snap pea and cranberry salad. Photo / Benjamin Dearnley
Serves 4-6
• ¼ cup red wine vinegar
• 1 clove garlic, crushed
• 1 tsp caster sugar
• 2 Tbsp olive oil
• Sea salt and cracked black pepper
• 250g green beans, trimmed
• 250g sugar snap peas, trimmed and halved
• ¼ cup pine nuts, toasted
• ¼ cup sweetened dried cranberries

1. Place the vinegar, garlic, sugar, olive oil, salt and pepper in a bowl and whisk to combine.
2. Cook the beans and sugar snap peas in a large saucepan of salted boiling water for 2 minutes or until tender.
3. Drain and refresh under cold water. Place on a dish and sprinkle with the pine nuts and cranberries. Drizzle with the red wine vinegar dressing to serve.