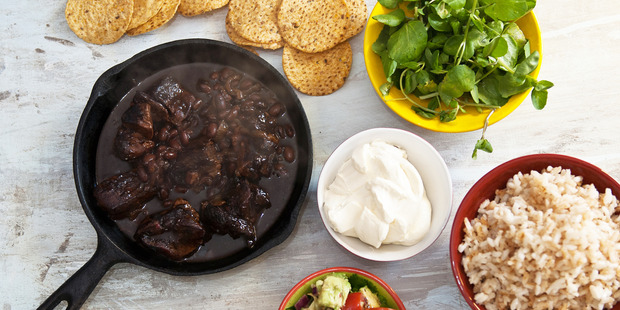 While we think of chocolate as sweet, it is not naturally so. In its raw state it is more bitter. Bitter chocolate can be used in sauces to enrich them and deepen their flavours.
The Renaissance Brewing Company is based in Blenheim. I was intrigued to find their roasted cocoa nib-enhanced stout at the Chocolate Festival. I took it to the kitchen.
Makes 4 hearty serves
1kg of braising beef cut into big chunks
1 400g can of black beans in chilli sauce
1 medium onion thinly sliced
3 cloves of garlic, crushed
1 fresh red chilli, diced, seeds in if you like it hot
1 tbsp of tomato paste
300ml of chocolate stout
1 tbsp of treacle or golden syrup
1 In a heavy pan sear the beef in a little oil, set aside.
2 Add the onion, garlic, chilli and tomato paste to the same pan.Cook gently to soften for at least 10 minutes. The longer you cook this mix the better the base flavours.
3 Add the beer and treacle or golden syrup, stir well to combine.
4 Add the beef and the beans and simmer until tender. Season to your taste.
Serve with:
* Sour cream, rice and corn chips
* Some fresh watercress or rocket will give a crisp contrast
* Make a quick chunky salsa with diced baby tomatoes, red onion, avocado, chopped coriander, sweet chilli sauce and a dash of olive oil.