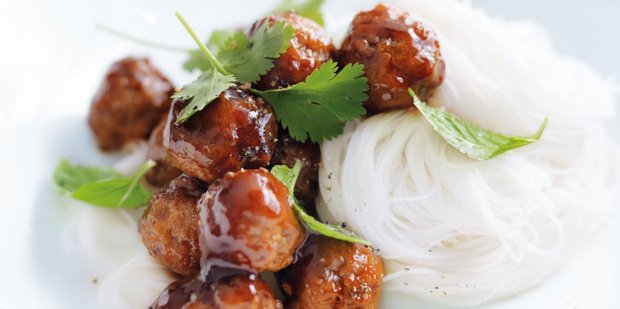 Serves 4
500g pork mince
3cm piece ginger, peeled and finely grated
2 cloves garlic, crushed
1 tsp Chinese five-spice powder
Sea salt and cracked black pepper
1 Tbsp vegetable oil
1 cup chicken stock
1 cup hoisin sauce
1 tsp dried chilli flakes
2 Tbsp lime juice
400g dried vermicelli rice noodles, cooked
1 cup coriander leaves
1 cup mint leaves
1 Place the mince, ginger, garlic, five-spice, salt and pepper in a bowl and mix until well combined.
2 Roll teaspoonfuls of the mince mixture into balls. Heat the oil in a non-stick frying pan over high heat. Add the meatballs and cook for 2-3 minutes. Add the stock, hoisin and chilli and cook for a further 3-4 minutes or until sauce is thickened. Add the lime juice and stir to combine.
3 Divide the meatballs and noodles between bowls and top with the coriander and mint leaves to serve.
* For more recipes by Donna Hay click here.