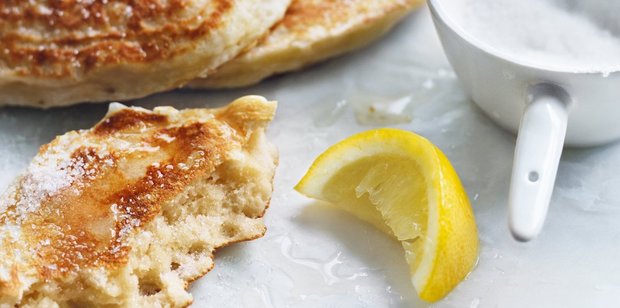 Serves 4
1 1/2 cups self-raising flour
1 tsp baking soda
1/2 cup caster sugar, plus extra, to serve
1 tsp vanilla extract
3/4 cup buttermilk
3 eggs, separated
1 cup fresh ricotta
Lemon wedges, to serve
1 Place the flour, baking soda, sugar, vanilla, buttermilk and egg yolks in a bowl and whisk to combine.
2 Place the egg whites in a separate bowl and whisk until soft peaks form.
3 Gently fold the ricotta and egg whites through the buttermilk mixture. Heat a large, lightly greased non-stick frying pan over medium heat.
4 Cook 1/4 cup of the mixture, in batches, for 2-3 minutes each side until golden and cooked through. Serve with lemon and sprinkle with extra caster sugar.
* For more recipes by Donna Hay, click here.