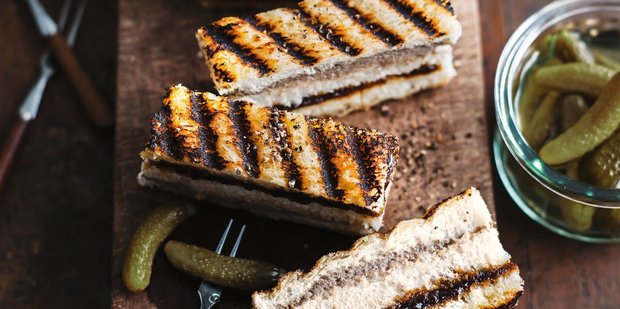 Makes 14
1 loaf white bread, crusts removed
1/2 cup store-bought chicken liver pate
1/2 cup store-bought caramelised onion relish
40g butter, softened
Sea salt and cracked black pepper
Cornichons, to serve
1 Slice the bread equally into 6 horizontal slices.
2 Place the pate in a bowl and use a spatula to soften.
3 Spread 1 slice of bread with half the pate. Top with another slice of bread and spread with half the caramelised onion.
4 Sandwich with a third slice of bread, brush both sides of the sandwich with butter and sprinkle with salt and pepper. Repeat with the remaining ingredients.
5 Heat a chargrill pan over medium heat and cook each sandwich for 30-60 seconds each side or until golden.
6 Cut each sandwich into 7 fingers and serve with cornichons.
* For more recipes by Donna Hay click here.