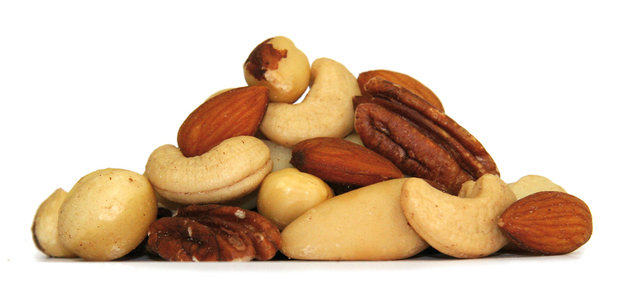 Fruity
Chopped nuts add a magic party-sparkle to winter puddings: bright green pistachios on a rose water-scented custard or rice pudding; slivered almonds on top of an apple crumble or chopped Brazil nuts through a chocolatey bread and butter pudding.
Eat your greens
Turn a side dish into the main event with chopped nuts: slivered almonds over buttery carrots or brussels sprouts, or through a wintry orange and broccoli salad; walnuts with a feta and beetroot salad; chopped peanuts on string beans with chilli for Szechuan style or handfuls of cashew nuts through a vegetable stir fry or a creamy paneer curry.
Burger bust
Mix nuts through vegetarian patties to satisfy the hungriest burger eater. Try chopped walnuts with parsley and grated cheese, cashews with mashed chickpeas, hazelnuts with grated carrots or tofu with brazils, almonds or a mixture of nuts. Use plenty of chopped onion, garlic and herbs and spices for flavouring, eggs to bind and breadcrumbs or spelt for thickening.