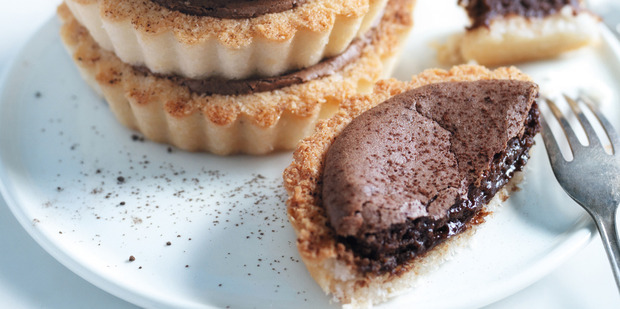 Makes 8
3 cups desiccated coconut
3 egg whites
3/4 cup caster sugar
Cocoa, for dusting
Chocolate filling
150g dark chocolate
100g butter
2 eggs
2 egg yolks, extra
1/4 cup caster sugar
2 Tbsp plain flour, sifted
1 Preheat oven to 140C.
2 Place the coconut, egg whites and sugar in a bowl and stir to combine. Press mixture firmly into the base and sides of 8 x 8cm-round well-greased, loose-bottomed tart tins.
3 Bake for 25-30 minutes or until just golden.
4 To make the chocolate filling, place the chocolate and butter in a saucepan over low heat and stir until melted and smooth.
5 Place the eggs, extra yolks and sugar in a bowl and whisk until pale. Gently fold the flour and chocolate mixture into the egg mixture and spoon into the macaroon cases.
6 Bake for 10-12 minutes or until just set.
7 Dust with cocoa and serve warm or cold.
* For more recipes by Donna Hay click here.