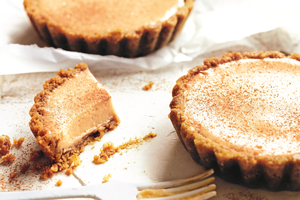 The warm fragrance of heady ginger is the perfect spice for aromatic winter baking. Add a sprinkling to make these scrumptious maple cheesecake tarts.
Makes 8
250g store-bought gingernut biscuits
1/4 cup ground almonds
100g butter, melted
175g ricotta
250g cream cheese
1/2 cup brown sugar
2 eggs
1 tsp vanilla extract
1/4 cup maple syrup
1 tsp cinnamon, to serve
1 Preheat oven to 150C. Place the biscuits and ground almonds in a food processor and process until coarsely chopped. Add the butter and process to combine.
2 Press into the base and sides of 8 x lightly greased 8cm tart tins. Refrigerate for 1 hour.
3 Place the cheeses in an electric mixer and beat for 5-6 minutes or until smooth.
4 Add the sugar and beat for 3-4 minutes or until sugar is dissolved. Gradually add the eggs, beating well after each addition.
5 Add the vanilla and syrup and beat until well combined.
6 Divide the mixture between the tart bases. Place on a baking tray and bake for 15-20 minutes or until firm to the touch.
7 Refrigerate for 3 hours or until chilled. Dust with cinnamon to serve.
* For more recipes by Donna Hay click here