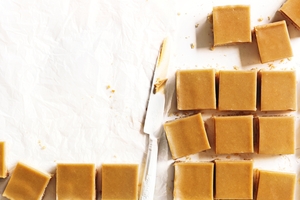 Ginger and coconut crunch slice. Photo / Chris Court
The warm fragrance of heady ginger is the perfect spice for aromatic winter baking. Add a hint to this crunchy, coconut-spiked slice.
Serves 8-10
2 cups plain flour, sifted
1/2 cup desiccated coconut
1 tsp baking powder, sifted
2 tsp ground ginger, sifted
1 cup caster sugar
250g cold butter, chopped
Ginger icing
150g butter, chopped
1/4 cup golden syrup
1 1/2 Tbsp ground ginger, sifted
1 1/2 cups icing sugar, sifted
1 Preheat oven to 180C. Place the flour, coconut, baking powder, ginger and sugar in a food processor and process in short bursts to combine.
2 Add the butter and process until the mixture resembles fine breadcrumbs.
3 Press into the base of a lightly greased 20cm x 30cm tin lined with non-stick baking paper*.
Bake for 35-40 minutes or until golden and firm to thetouch. Set aside.
4 To make the icing, place the butter, golden syrup and ginger in a saucepan over medium heat and cook for 2-3 minutes or until butter is melted. Add the icing sugar and whisk to combine. Pour icing over the cooked base.
Refrigerate for 1 hour or until set. Cut into squares to serve.
Chef's tip:
The mixture will be crumbly when you press it into the tin, but will come together as the butter melts while it is baking.
* For more recipes by Donna Hay click here.