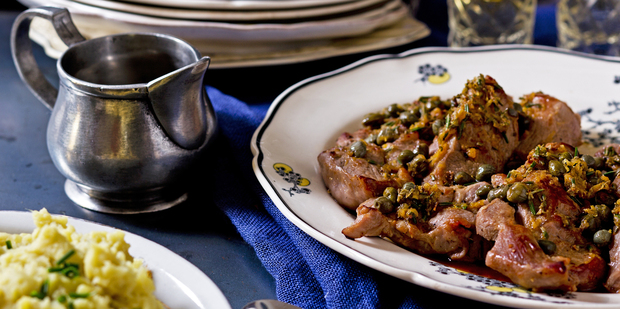 Serves 4
400g kumara, peeled and sliced
1/4 cup water
1 garlic clove, sliced
1/2 cup cream
Salt and freshly ground black pepper
2 Tbs olive oil
1 Tbs butter
4 veal steaks
1 Tbs olive oil
1 Tbs butter
Zest and juice of two lemons
4 tsp capers
2 Tsp fresh rosemary, chopped
1 Boil the kumara with the water, garlic, cream and seasoning. When soft, mash together until smooth, keep warm.
2 Heat the olive oil and butter in a pan, cook the steaks approximately 3-4 minutes per side, depending on the thickness.
3 Remove from the pan and let rest while adding the zest and juice to the pan with the capers and rosemary.
4 Let simmer together before spooning over the veal.