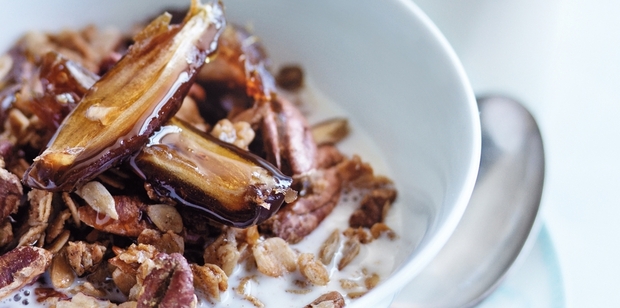 Serves 4
3 cups rolled oats
2 cups pecans, halved
1/2 cup sunflower seeds
1/2 cup maple syrup
1/2 cup canola oil
2 tsp cinnamon
12 fresh dates, seeded and chopped
4 bananas, chopped
2 cups milk
1/3 cup maple syrup, extra
1 Preheat oven to 180C.
2 Place the oats, pecans, sunflower seeds, maple syrup, canola oil and cinnamon in a bowl and mix well to combine.
3 Transfer to a lightly greased baking tray lined with non-stick baking paper and bake for 20-25 minutes or until golden.
4 Stir though the dates and allow to cool completely.
5 Place the banana and milk in a blender and process until smooth.
6 Serve the muesli with the banana milk and the extra maple syrup.
* For more recipes by Donna Hay click here.