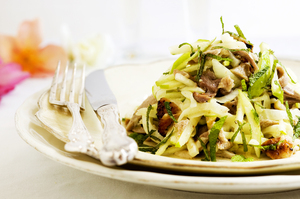 Roast duck, fennel and apple salad. Photo / Babiche Martens
Serves 6
4 duck breasts, skin on
Salt and freshly ground black pepper
1 Tbs olive oil
2 tsp butter
Salad
2 fennel bulbs
2 granny smith apples
2 Tbs fresh mint
3 Tbs creme fraiche
2 Tbs lemon juice
1 Tbs sherry vinegar
1 tsp caster sugar
2 tsp salt
1 Preheat the oven to 200C. Place the duck breasts on a tray and season. Drizzle with olive oil and butter then roast for 15 minutes. Rest while preparing the salad.
2 To make the salad; remove the core from the fennel bulbs and discard. Finely slice the bulbs and combine with finely sliced apples, mint, creme fraiche, lemon juice, sherry vinegar, sugar and salt.
3 Toss all the salad ingredients together before serving with the slivers of roasted duck.