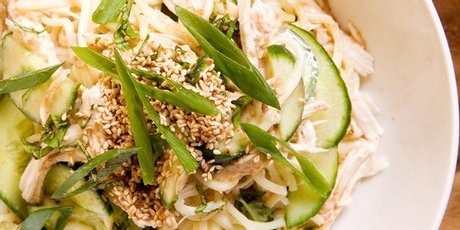 Serves 4
600g boneless and skinless chicken thigh meat
1 Tbs peanut oil
Salt
400g egg noodles
1/2 a telegraph cucumber or two Lebanese
2 spring onions
3 Tbs sesame seeds, lightly toasted
Sesame sauce
2 tsp fresh ginger, grated
2 tsp garlic,finely chopped
2 tsp sesame oil
2 Tbs sesame seeds, toasted and ground in a mortar and pestle
2 Tbs light soy sauce
3 tsp honey
1 Preheat the oven to 200C. Slice the chicken then rub with the oil and salt.
2 Put into a baking dish and cook for 15 minutes. Let cool then shred.
3 Cook the noodles according to the instructions, then drain and let cool.
4 Make the sauce by combining all the ingredients together. Stir well then spoon over the noodles and chicken. Refrigerate until cold.
5 Halve the cucumber lengthwise, then slice finely. Slice the spring onions. Before serving, sprinkle over the sliced cucumber, spring onions and toasted sesame seeds.

By Amanda Laird

Email

Amanda