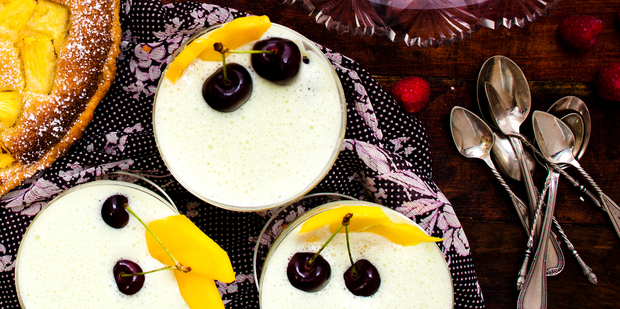 Serves 4
• 1 large Australian mango
• 24 fresh cherries, plus 12 to serve
• ½ cup ginger wine
• 1 pkt lime jelly crystals
• 2 tsp finely grated lime zest
• 1 cup boiling water
• 375ml can evaporated milk, chilled until almost frozen

1. Peel and slice the mango. Place into a bowl.
2. Halve the cherries and remove the stones. Place into a separate bowl.
3. Pour half of the ginger wine over each and leave to marinate.
4. Pour the jelly into a bowl, add the zest and pour over the boiling water. Stir to dissolve then cool completely.
5. Beat the evaporated milk until thick, add the jelly mixture and continue beating until thick and well combined.
6. Layer the fruit and the flummery into glasses. Top with extra fresh cherries.