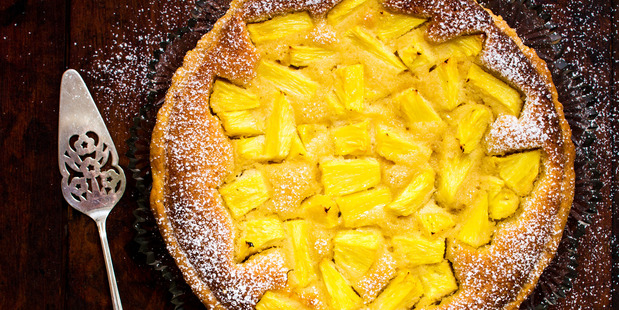 Makes 1 x 22cm tart
Shortcrust pastry
• 180g butter
• 240g plain flour
• ½ tsp salt
• ¼ cup iced water
Frangipane
• 100g butter
• 140g caster sugar
• 200g ground almonds
• 2 eggs
• ¼ cup rum
• 2 cups fresh pineapple, chopped into 2cm cubes
• Icing sugar
• Creme fraiche
• Shredded mint

1. To make the pastry; first dice the butter. Sift the flour and salt on to a workbench. Toss with the butter and use your fingertips to rub together.
2. Make a well in the centre and pour in the water. Work the mixture lightly with your hands until it is combined. Dust with flour and wrap in plastic wrap. Refrigerate for 30 minutes.
3. Grease the tart tin. Roll out the pastry, wrap it over the rolling pin and let it unroll over the tart tin. Press into the edges and trim the edges or roll the rolling pin over. Refrigerate for 30 minutes.
4. Line the pastry with foil and cover with baking weights or use dried beans. Bake at 200°C for 15 minutes. Remove the weights and foil and bake for a further five minutes. Reduce the oven temperature to 180°C.
5. To make the frangipane; cream the butter and sugar in a food processor until pale. Add the almonds, eggs and rum, blend well.
6. Spoon the frangipane over the pastry then pile with the pineapple and bake for 20 minutes or until golden. Dust with icing sugar before serving with creme fraiche and shredded mint.