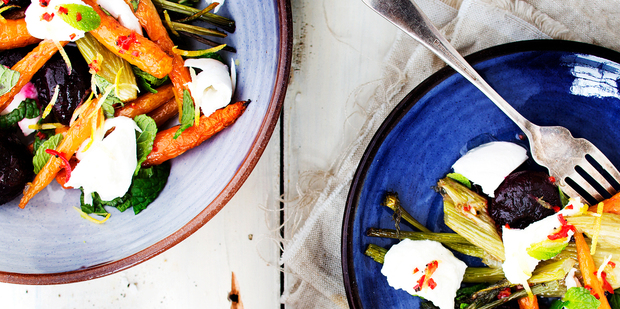 Serves 4
Olive oil
2 tsp red chilli, finely chopped
Finely grated zest of one lemon
Salt and freshly ground black pepper
12 baby carrots
12 baby fennel bulbs
12 baby beetroot
a handful (1/2 cup) mint leaves
Fresh mozzarella - either small balls or one large torn into pieces
1 To make the oil - pour a cup of olive oil into a jar, add the chilli and lemon then leave to infuse, for at least an hour.
2 Preheat oven to 200C. Arrange the vegetables on a baking tray. Toss with olive oil and season. Cook for 30 minutes or until golden, turning once.
3 Serve the vegetables with torn mint leaves and the mozzarella. Drizzle over the chilli lemon oil.