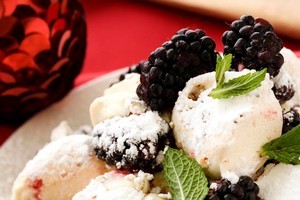 Serves 4 with extra meringues
Hazelnut meringues
4 egg whites
1/4 tsp salt
1/4 tsp lemon juice
1 cup caster sugar
1/4 cup hazelnuts, toasted
1 cup blackberries
1 cup cream
1 vanilla bean, split lengthwise
Icing sugar
1 To make the meringues; whisk the egg whites until they reach a stiff foam then add the salt and the lemon juice.
2 Continue whisking while adding a little sugar at a time to create a glossy meringue.
3 Finely chop the hazelnuts or place into a food processor and pulse until fine. Add the hazelnuts to the meringue.
4 Preheat the oven to 150C. Line a baking tray and either pipe the meringues or use a teaspoon. Bake for approximately 1 hour or until the meringues are dry and crisp.
5 Allow to cool then if not using straight away, put into a sealed container.
6 Serve with plenty of fresh blackberries and cream whisked with the seeds scraped from the vanilla bean. Dust with icing sugar.