The humble sandwich gets a makeover with some gourmet ingredients.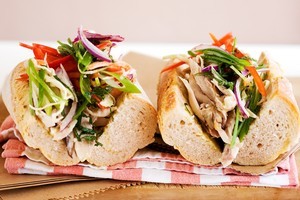 The idea of making a sandwich seems simple but there are too many ordinary types out there. We want our sandwiches to be tasty and delicious, with exciting fillings and unpredictable wrappings.
These recipes are perfect for hungry people on the run; whether they're to put in a lunchbox for school or work or to take to the park or the beach for an impromptu picnic.
They are a whole meal in one really. All you need to round it off are a few punnets of strawberries and a nice cool juice or maybe a Jelly Tip.
A muffuletta is an Italian stuffed bread. You can make individual rolls or stuff an entire loaf. The top is sliced off and the bread filling pulled out - and thrown to the birds if you're feeling kind. Then the cavity is brushed with a lovely rich extra virgin olive oil and it's simply a case of layering in a range of whatever fillings take your fancy.
I have used tuna, slices of sweet ripe tomatoes, fresh herbs, grilled peppers and asparagus.
Once filled, wrap the bread thoroughly with plastic wrap and weight it down. Put into the fridge overnight and it will make a delicious lunch roll the following day. If you use a whole loaf, it can be sliced to enjoy with friends as part of a picnic.
Wraps are a quick way of rolling up tasty and healthy ingredients. They are easy to find at most supermarkets and quick to make. They make a nice change from sliced bread and if you are near a grill plate at the weekend, pop the wraps on, flatten with a spatula and toast.
As far as fillings go, whizz up up a tin of drained chickpeas with a spoonful of tahini, garlic, olive oil and some "secret spices" and you will have enough hummus to last at least a month.
Add a few salad greens, feta, pluck a few herbs and add some slices of cheese and avocado. It's a refreshing change from a sammie with room for a slice of leftover lamb or chicken.
Buying a delicious crusty baguette is a great way to provide a tasty lunch for your friends. It doesn't take long to fill and slice. Use coleslaw made with apple, mint and red onion, add cold roast chicken and aioli or mayo, wrap in a napkin and away you go.
Chef's tip
Choose a flavour of wrap that appeals and then give each a quick toast over a grill to soften which also adds a deliciously subtle charcoal flavour.
Look for the crustiest bread rolls you can find when making a muffuletta, knowing that when you slice off the top and pull out the centre, you will have a strong outer to hold the delicious juicy fillings.