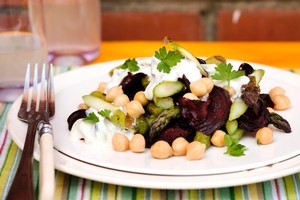 Serves 4
2 small beetroot
2 Tbs olive oil
1/2 Tbs walnut oil
16 asparagus spears
Salt and freshly ground black pepper
1 cup cooked chickpeas
1 cup yoghurt
1 lebanese cucumber, finely diced
Juice of one lemon
1 Tbs fresh mint, finely chopped
Flat leaf parsley, to garnish
1 Peel and slice the beetroot into rounds as thinly as possible.
2 Heat a fry pan and add the olive and walnut oil. Fry the rounds of beetroot in batches, turning over after one minute to cook through. Drain on paper towels and set aside.
3 Snap the ends off the asparagus then add to the hot pan and cook, turning occasionally for 5 minutes. Season and set aside.
4 Arrange the beetroot and asparagus with the chickpeas on a platter.
5 Combine the yoghurt, cucumber lemon and mint to make the tzatziki. Combine then season with salt.
6 Serve the tzatziki with the salad. Add parsley to garnish.