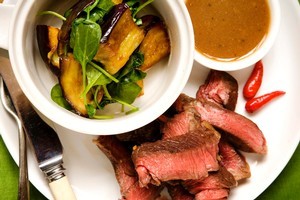 Serves 4
3 x 150g scotch fillet
50g tamarind pulp
1/2 cup hot water
3 cloves garlic, finely sliced
3 tsp black pepper, freshly ground
1 Tbs soy sauce
3 tsp palm sugar, grated
1 Tbs peanut oil
1 eggplant, diced
4 handfuls of baby spinach leaves or one bag
Juice of one lemon
1 Place the scotch fillet in a dish. Soak the tamarind pulp in the hot water for 30 minutes then rub with your fingers before pushing through a strainer with the water. Pour over the beef.
2 Add the garlic, pepper, soy and palm sugar then leave to marinate for 30 minutes.
3 Line the steamer with baking paper and sit over a saucepan of simmering water. Remove the beef from the marinade, cover and steam for 15 minutes, in batches depending on the size of your steamer.
4 Meanwhile heat the peanut oil and fry the eggplant until golden. Toss with the spinach leaves and lemon juice.
5 Simmer the remaining marinade for 3 minutes. Serve the scotch fillet sliced with with the marinade spooned over it and accompanied by the eggplant and spinach salad.