As soon as the weather starts to warm, our minds turn to fresh produce, all dressed up.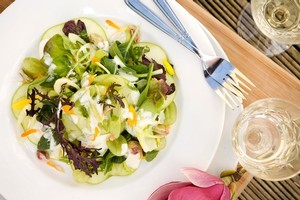 A few days ago the weather was gorgeously spring-like and inspiring. Today as I write this article, the wind is whistling and the cardigan has been put back on, hopefully not for long.
Blue skies and sunshine are always welcome and motivate you to look for spring produce to stimulate the tastebuds and provide a fresh change from winter fare.
All of a sudden salads become enticing with their crisp and crunchy textures as opposed to the hearty, often heavy, food better suited to the colder months.
Salads are perfect because they can be made from a multitude of different ingredients. No rules apply: start with a base component such as chicken, beef, perhaps seafood or succulent juicy fried tofu then add whatever tickles your fancy in the produce aisles.
Look for colour and use ingredients that contrast. A beef salad is so much better when finely sliced red onion and shredded capsicum are added.
Crisp cucumber is delicious with chicken and segments of juicy orange. Chilled tart granny smith apple sliced into a salad with fennel bulb and sweet green grapes is delicious - throw in a handful of salted pistachios and a light drizzle of fresh lime and sour cream dressing.
Dressings are important and can be as simple as a good quality oil and a squeeze of lemon with a sprinkle of sea salt or you can take the time to make a nutty pesto from mint and peanuts then mix together with yoghurt.
Have a wander around a local food store that provides more specialised products to find oils made from walnuts, hazelnuts, avocado, and macadamia, which all can provide a change in flavour from olive oil.
Use a variety of greens; mesclun mixes are easy but it is good to experiment with baby spinach leaves, shredded cabbage or Asian greens for a change.
Chef's tip
Season a salad as you would any other food with a little freshly ground black pepper and sea salt as you combine the ingredients. Dressings are best served on the side so people can add as little or much as they wish.