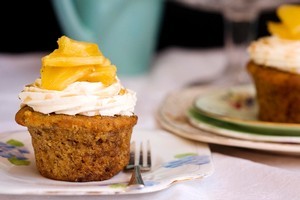 Makes 12
Cake
180g butter, softened
3/4 cup caster sugar
2 eggs, separated
1/2 cup coconut cream
1 cup self-raising flour
1/2 cup desiccated coconut
Icing
2 tsp vanilla extract
1 Tbs butter, softened
1 cup icing sugar
Pineapple
1 Tbs butter
1 Tbs brown sugar
3 rounds of ripe pineapple, sliced into 24
Syrup
1/4 cup brown sugar
1/4 cup water
1 tsp ground cardamom
1 tsp vanilla extract
1 To make the cakes; preheat the oven to 180c. Grease individual cake tins or use cake papers, or muffin tins.
2 Beat the butter and sugar until pale. Separate the egg yolks and the whites. Add one egg yolk at a time to the mixture while gently mixing to incorporate the ingredients, then stir in the coconut cream.
3 Fold in the flour and coconut. Whisk the egg whites until soft then fold into the cake mixture.
4 Spoon into the prepared baking tins or papers, then bake for about 15 minutes or until the tops spring back when lightly touched.
5 To make the icing; beat all the ingredients together until smooth.
6 To glaze the pineapple; heat a pan, add the butter then the sugar. When bubbling, add the pineapple then cook for a minute on each side or until golden. Let cool.
7 To make the syrup; simmer the sugar, water, cardamom and vanilla together in a saucepan for 20 minutes. Let cool before serving over the fruit, icing and syrup.