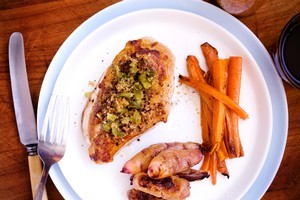 Serves 4
1 cup freshly made breadcrumbs
2 tsp salt, plus extra
2 jalapeno chillies, finely diced
1 spring onion, finely diced
1 Tbs coriander, finely diced
Zest of 1 lemon
2 Tbs vegetable oil, plus 1 Tbs extra
16 yams
1 Tbs honey
Salt
1 tsp cumin seeds
1 Tbs chilli avocado oil
3 carrots, peeled and sliced
4 chicken breasts
1 Preheat the oven to 200C. Line two baking trays.
2 Combine the breadcrumbs with the salt, chillies, spring onion, coriander, lemon zest and oil.
3 Slice the yams and toss with the honey, salt, cumin seeds and chilli avocado oil.
4 Peel and slice the carrots - add to the yams and bake for 30 minutes.
5 Place the chicken breasts on the tray then season and cover with the crumbs, tightly packed. Bake for 20 minutes, then remove and let rest while covered with foil for 10 minutes.