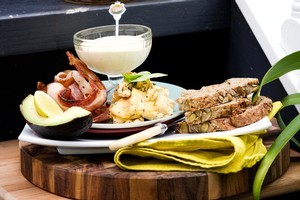 Serves 4
Hollandaise
200g butter
1/4 cup white wine vinegar
2 Tbs water
3 egg yolks
Juice of half a lemon
Salt and freshly ground pepper to taste
1 Tbs olive oil
4 eggs
100g soft tofu
1/2 cup fresh herbs eg basil, chervil, parsley or a combination
1 avocado
4 rashers of free-range bacon
Whole grain toast
1 To make the hollandaise; melt the butter and set aside.
2 Put the vinegar and water into a small saucepan and reduce until half the amount. Pour into a small bowl that will fit over a saucepan half-filled with simmering water. Add the egg yolks and whisk until thick.
3 Whisk in the slightly cooled butter until you have a thick sauce. Add the lemon juice and season to taste.
4 Heat a pan and add the olive oil. Gently whisk the eggs with the crumbled tofu. Add the herbs and cook gently until just set. Serve with slices of avocado, crispy bacon, buttered toast and hollandaise.