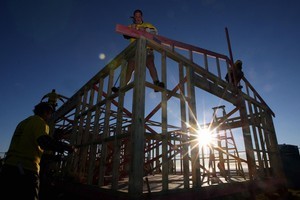 Earthquake repair work and Auckland house building could boost New Zealand's $8.9 billion building sector and turn the downturn into a new growth phase.
A report out today from consultants BIS Shrapnel's forecast activity through to 2017, calculating how rebuilding efforts would cause a big change.
Adeline Wong, senior project manager, predicted activity levels would rise 50 per cent in the year to March, 2013, mainly due to Christchurch and Auckland house-building activity.
Grant Porteous, whose Deacon Homes has the master franchise New Zealand's biggest house builder G.J.Gardner, predicted that business would put up 580 houses this year, similar in 2013 but then at least 900 in 2014.
He agrees that demand in Auckland and Christchurch would be key drivers in the next few years and sees some changes in buying habits.
A four-bedroom 146sq m $170,000 G.J.Gardner house with all services provided, advertised as the Amrita Express special, was selling well, he said. Land was not included in that package but that house was popular in Auckland.
"People's expectations are changing about what they have in a home. They are saying 'do I need such an extreme house?'," he said, predicting some group house builders would leave the sector and that rationalisation was inevitable. The Christchurch rebuild had forced up labour rates up and he knew of electricians being paid $65 an hour.
"Labour rates in Christchurch will escalate and trades from other parts of New Zealand will be drawn there," Porteous said.
BIS said reconstruction in Christchurch and a rebound in activity elsewhere would push annual consent values to historical high levels during the five-year period to 2016/17, with annual average consent value at about $10 billion, BIS said, although this could be higher when all earthquake damage claims were processed.
Remediation work on leaky homes and schools is also expected to contribute to the building sector growth over the forecast period.
"Dwelling consents are forecast to rebound from 20-year-plus low of less than 15,000 units per annum in the past two years, to peak at 25,500 units in 2014/15. At this level, it still remains below the annual average of 30,000 units over the boom years of 2003 to 2005.
"This lower activity level is ascribed to higher construction cost resulting from earthquake reconstruction in Christchurch, which will constrain building activity in other regions in the country.
"Also, outside of Christchurch, building activity is expected to soften as home affordability worsens again in 2015, due to rising house prices and mortgage rates.
"As a result of supply shortage, especially in Auckland, house prices are expected to again escalate once demand for houses gathers momentum," the forecast said.
"Although affordability will continue to act as a drag on building activity in the second half of the outlook period, a shortage of housing supply and a reversal back to net overseas migration gains will underscore house prices, especially in Auckland and Wellington.
"Christchurch reconstruction will provide a major boost to the non-residential building sector over the five-year forecast period.
"We also expect a pick-up in new building and refurbishment activity in the warehouse, factory and office building sectors in the North Island over the coming years in response to stronger economic growth," the report said.
Figures from Statistics New Zealand show how the sector peaked in 2007 when building consents worth $12.4 billion were issued. In the latest period to December last year, consents for work worth $8.9 billion were issued.
TUMBLING DOWN
Building consents issued nationally:
2006$11.6b
2007$12.4b
2008$11.3b
2009$10.1b
2010$9.7b
2011$8.9b
- Source: Statistics NZ