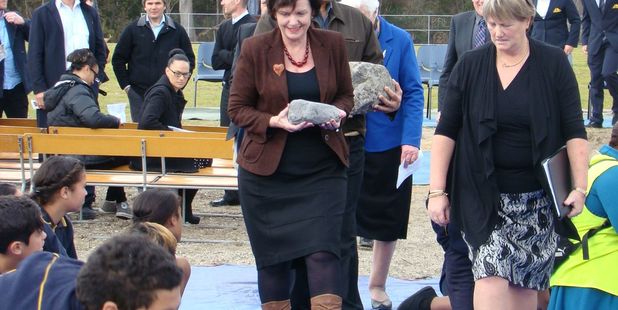 Eighteen months on from the opening of Tarawera High School an official party of school and community representatives oversaw a ceremonial 'turning of the soil' on the construction site of the schools new facilities.
Three stones were blessed and buried on the site representing the sea, Tarawera River and Mount Putauaki.
They were buried by four members of the official party; Local MP Anne Tolley, the Chairman of the Board of Trustees Aaron Rangihika, Berice Julian and Jamaine-Jye Ratana.
Mrs Julian was the first head girl at Kawerau College in 1963, and Jamaine-Jye is the youngest student at Tarawera High School. Together the pair represent the history of the school, its past and future, after the ceremony Jamaine-Jye interviewed Berice for a project on that history.
Mrs Tolley, who has been part of the process since community consultation began in 2011, represented the Government as a key speaker in the ceremony.
As it was on the last sitting day of parliament Tolley sought special dispensation to attend.
"I had to speak very, very nicely and call in a few favours with the whips.
"I'm very grateful that I got the opportunity to come," she said. "It's a significant event for the government, and for the community. Now that the stones are in the ground we can begin the building of the school and continue to build up the community."
The construction is part of an extensive rebuild, replacing approximately 60 percent of the schools buildings and costing $15.6 million dollars. According to a press release from Associate Education Minister Nikki Kaye the 'state-of-the-art' facilities will include 'modern teaching spaces', technology and performance spaces, and a wireless fibre network.
Mrs Tolley notes that most of the current facilities are about 50 years old saying "I think it's right that we have an almost complete refit... It's absolutely essential to have access to top-notch facilities, teachers and access to education for our youngsters."
The new buildings will be built with an eye towards environmental sustainability, and are to be located on a lay line running from Putuaki to Maketu on the coast.
The location and orientation is intended to symbolise the school's connection with Kawerau and the local environment.
The construction, to begin in September, is expected to be completed by the end of next year.