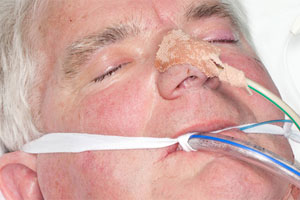 A critically injured man who was struck by a train in Levin has woken up and acknowledged his name is Alan.
He is still unable to speak but is nodding and shaking his head in response to "yes" and "no" questions and police are hopeful they will soon know who he is.
The man has been on life-support in Palmerston North Hospital since losing an arm and leg when hit by the train, at Levin Railway Station on Friday night.
Police released photographs of the man earlier today as a "last resort" in an effort to identify him.
Central District police spokeswoman Kim Perks said the man woke up late this morning and nodded when asked if his name was Alan.
The man had said the name to ambulance staff on Friday, although police had earlier been unsure whether it was his own name, or if he had been referring to someone else.
He is in a serious but stable condition and will undergo further surgery tomorrow.
Detective Brenda Kelly of Levin police said the man opened his eyes briefly when she visited earlier this morning, which was happening more frequently.
"I'm sure there are friends and family out there who he would rather have sitting talking to him than me," Ms Kelly said.
"Please, if you have any idea who this man is, call us."
Police received upward of 50 calls last night after an image of the man was broadcast on the 6pm television news.
"We have had a fantastic public response but we still need more," Ms Kelly said.
"If you think this might be a relative, try to contact them and if you can't locate them or have concerns, then call us."
Police describe the man as 1.7m tall and 90-100kg in weight, stocky but not overweight, with dentures.
He was wearing light blue denim jeans, a blue bomber style jacket with a zip front, a lumberjack type shirt with a dark green check on a light cream background, grey socks, black loafer-style shoes and a black beanie hat with a silver fern symbol on the front.
He was found with a pair of prescription sunglasses and some money, but no wallet.
Although the crash happened in Levin, the man could be from anywhere.
Police have not yet determined how he got on the tracks.
- NZPA, NZ HERALD STAFF